ESTRUSFORTTOUR-2: Narva Castle Park awarded by the President Toomas Hendrik Ilves
On 24 August 2014
the President of the Estonian Republic Toomas Hendrik Ilves handed awards to the winners of the competition and approved the protocol of the Estonian Union of House Improvement
. The ceremony took place in Paide Cultural Centre.
Narva Castle Park
among other winners
got the award "Beautiful Estonian House 2014".
The park was reconstructed and put in order during implementation of the international project "Unique Estonian-Russian fortresses ensemble development as a single tourist product. Stage II" (EstRusFortTour-2).
In the frame of the project the following works were carried out in the Castle Park:
• 114 sick trees cut down, 87 tree crowns shaped. 18 new trees and 2400 bushes planted;
• Drainage system and rainwater sewage constructed, 60 m of drainage pipes, 201 m water pipes installed;
• Approximately 627 m2 of pedestrian walkways paved and approximately 2253 m2 of walkways covered with granite crumbs;
• 186 m of granite pavement edge constructed;
• Street lamps installed - 58 illuminating lamps and 59 other types of illuminators (in the fountain, in walkways);
• 27 benches and 31 litter-bins installed (incl. 3 dogstations);
• Staircases leading to the old gates were replaced with 2 access ramps (descents). Similar ramps erected on the way to the Wedding Tree;
• Fountain reconstructed;
• 6 fixed and 2 pull-out columns installed with the aim to regulate transport;
• 6 information stands, 2 pointers and 4 information plates installed;
• At present movement in the park is divided into pedestrian zone (paved or covered with granite crumbs walkways) and transport zone paved with cobblestone;
• 4 video cameras register what is going on in the park.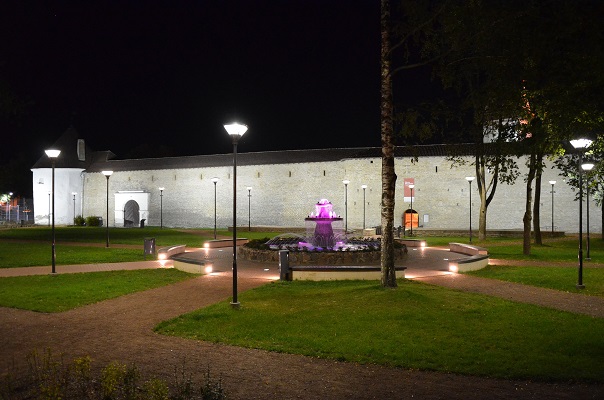 Project partners having implemented the project are Narva Department for City Development and Economy, Municipal Formation "Ivangorod City" and Narva Museum. Designer of the improved infrastructure is Lootusprojekt OÜ and the constructor is Lemminkäinen Eesti AS.
The renewed Castle Park was opened during joint opening ceremony which took place on 30 and 31 May in Narva and Ivangorod.
The works implemented in the framework of the international project "EstRusFortTour-2" directed to the increase of accessibility of the unique complex of two fortresses that has enormous historical, cultural and tourist value.
Project received support of the Estonia-Latvia-Russia cross-border cooperation Programme ENPI 2007-2013 in the amount of EUR 1 642 108, 36 or 90% of the project budget. The total project budget is EUR 1 824 564, 85, 10% is partners' co-financing.
Information is prepared by:
Angelika Shticalov, EstRusFortTour-2 project PR specialist
+372 35 99 244
angelika.shticalov@narvamuuseum.ee
Natalia Orava, Project manager
+37 235 99 085
natalia.orava@narva.ee
Events calendar

December 2023

27
28
29
30
1
2
3
4
5
6
7
8
9
10
11
12
13
14
15
16
17
18
19
20
21
22
23
24
25
26
27
28
29
30
31