LSP-2: Narva 1st border crossing point at Estonia-Russia border got the cornerstone
On 28 November, 2014 Cornerstone Ceremony of pedestrian terminal of Narva 1st border crossing point (BCP) took place in Narva, Estonia.
Narva border crossing point is one of the biggest road connections between European Union and Russian Federation. As a result of development works the throughput of Estonia-Russia border crossing point in Narva will increase two times.
The old terminal size of 500 m2 was demolished and new modern complex will be approximately three times bigger compared with the old one.
Construction works are expected to be completed in summer 2015.

At the historical event in Narva many prominent officials – partners of the project and owners of the object were present. Greeting words and contribution to the cornerstone cylinder was given by the Minister of Interior of the Republic of Estonia Mr Hanno Pevkur, Prefect of the East Prefecture of the Police and Border Guard Board of Estonia Mr Vallo Koppel, Deputy Director General of Estonian Tax and Customs Board Mr Egon Veermäe, Ida-Viru County Governor Mr Andres Noormägi, Mayor of Narva City Mr Eduard East, Chairman of the Board of State Real Estate of Estonia Mr Jaak Saarniit and Chairman of the Board of construction company OMA Ehitaja Mr Kaido Fridolin. 
Ms Unda Ozolina, Head of Joint Technical Secretariat of the Estonia-Latvia-Russia Programme in her speech stressed the role of the Programme in development works of border crossing point and expressed wish for successful cooperation between involved bodies. Memento by Estonia-Latvia-Russia Programme to the cornerstone time capsule was a keychain with Programme logo and newest leaflet with Programme information.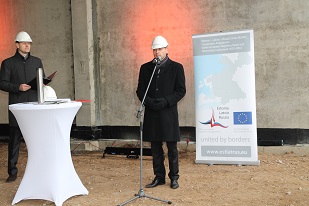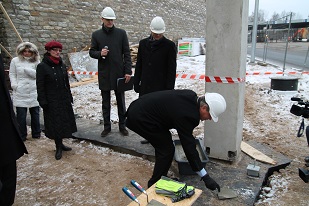 Reconstruction of Narva-1 BCP is conducted in frame of the Large Scale project of Estonia-Latvia-Russia Programme "Complex Reconstruction of Border Crossing Points in Ivangorod and in Narva" (BCP Narva-Ivangorod). Total cost of the project is 8 221 126 EUR and co-financing by Estonia-Latvia-Russia Programme and the Ministry of the Interior of the Republic of Estonia is 7 399 013,00 EUR.
Total cost of the construction works of Narva-1 BCP is 6,7 MEUR.
Project
portfolio
.
Event was reflected in the news in Estonian Television -
ETV
.
Events calendar

November 2023

30
31
1
2
3
4
5
6
7
8
9
10
11
12
13
14
15
16
17
18
19
20
21
22
23
24
25
26
27
28
29
30
1
2
3