LSP-3: "Common Peipsi" opens modern boat harbour in Tartu – new gate to the Hanseatic city
On 17 October 2014  Karlova boat harbour in Tartu (Estonia) was ceremonially opened by the Mayor of Tartu city Mr Urmas Klaas in presence of numerous citizens, Tartu visitors, project partners from Estonia and Pskov Region (Russia), media representatives. The golden ship bell was given as a gift by the Mayor to the manager of operator company of the harbour Seto Line Reisid Mr Toomas Sein.
Greeting words and good wishes were delivered by representative of the Ministry of Interior of the Republic of Estonia Mr Priidu Ristkok, member of the board of construction company Nordecon Mr Erkki Suurorg. Free microphone was lively used by associates and symbolic presents handed over to the city of Tartu, to port captain Mr Toomas Oks and to the manager of Seto Line Reisid Mr Toomas Sein. 
Jolly brass band "Popsid" and many guests had opportunity to arrive to opening ceremony by the ship "Alfa". Owners of boats and small vessels were welcomed to arrive to the new port by personal watercrafts.
After ceremonial rope cutting and performance by the brass band "Popsid" the modern Tartu Karlova boat harbour was announced opened.
In frame of the project there was built 40 meters long stationary dock and landing stage for 44 boats, constructed new port house (180 m2) on the bank of Emajõgi river in Tartu. In the harbour territory the footpaths, access roads and parking areas for cars have been constructed and 3400 m2 area covered with asphalt pavement, established 4500 m2  of green area and installed street lighting.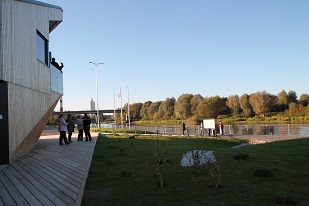 New established harbour with its facilities gives additional opportunities for fostering the water traffic on Emajõgi river as well as on Lake Peipsi, encourages entrepreneurship and development of tourism related businesses and contributes to improvement of environmental conditions of the region.
Total cost of the construction works of Tartu harbour complex was EUR 1 689 799. Co-financing of the ENPI Estonia-Latvia-Russia CBC programme was EUR 1 371 779 and Tartu city contribution EUR 318 020.
Total cost of the project "Economically and Environmentally Sustainable lake Peipsi area" ("Common Peipsi") is EUR 9 474 009,00. Programme co-financing is EUR 8 526 607,30 (incl. Estonian State contribution EUR 2 317 477,00). Partners co-financing is EUR 947 401,70.
PROJECT
PORTFOLIO
.
Events calendar

November 2023

30
31
1
2
3
4
5
6
7
8
9
10
11
12
13
14
15
16
17
18
19
20
21
22
23
24
25
26
27
28
29
30
1
2
3