Safer and faster traffic possibilities meet passengers in border area of South-East Estonia and Pskov oblast
The project partners were the Estonian Road Administration (Estonia), the Administration of Pechory district, Municipal Culture Institution "Pechory Culture Centre" and General partnership company "Shans & Co" (Russia). These organizations joined their forces for increasing the competitiveness of the cross-border region through development of traffic possibilities in Värska-Pechory monastery road.


Faster and safer traffic possibilities are created for trucks and cars in border areas of South-East Estonia and Pskov oblast. 17 km long road section was reconstructed in Põlva county, Estonia. 14,6 km road section Reha-Koidula was reconstructed according to international standards and 2,4 km gravel road section Värska-Reha got tarmac pavement. Traffic conditions were significantly improved in Pechory town where 2,1 km of streets has been reconstructed from Kunichina Gora frontier point to Pechory monastery (Jurjevskaja str.-Svobody square 6300 m2 - Oktjabrskaja square 4400 m2-Fabritchnaja str-Sobornaja square 1520 m2-Pechory monastery). The reconstruction works in Pechory included also construction of water and sewerage system under the street, which enabled to connect 25 houses locating in Jurjevskaya street to the city water and sewerage system. Also new electricity system was established and road signs were installed. Safer traffic possibilities have been created for bicyclists and foot passengers as new foot/cycle ways were constructed, incl. 1,6 km foot/cycle way in Värska village, 0,3 km foot/cycle way in Koidula border area and 2,1 km cycle ways and footways Pechory town.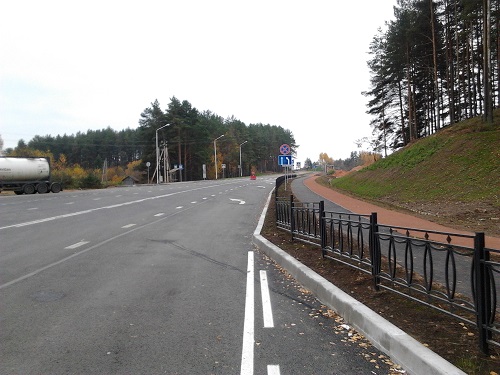 Safer infrastructure has been created for tourists visiting Pechory town, incl. the Holy Dormition Pskovo-Pechorsky Monastery. The 0,5 ha parking area has been constructed in Pskovskaja street for tourism buses and cars.





Partners created cross-border network of specialists engaged in road construction and traffic safety/education and organized 2 joint seminars and 2 joint trainings for exchange of experiences.


Project "Safe Road " was part-financed by the Estonia – Latvia – Russia Cross Border Cooperation Programme within the European Neighbourhood and Partnership Instrument 2007-2013.
Total cost of the project is 5 597 844 EUR and co-financing of the Programme is 4 474 306,27 EUR (incl. Estonian State contribution).



Information prepared by Project Manager Silja Lehtpuu.


Events calendar

December 2023

27
28
29
30
1
2
3
4
5
6
7
8
9
10
11
12
13
14
15
16
17
18
19
20
21
22
23
24
25
26
27
28
29
30
31