SVS ACTIVETOUR - finalised sports and recreational infrastructure in 3 cross-border areas
Sigulda District Council in cooperation with Voru Municipality (Estonia) and three partners from St,Petersburg – Committee for physical culture and sports and State autonomous enterprise "Directory for managing sport facilities" and State autonomous enterprise "Training centre for national sport teams"  has implemented joint project ELRI-112 "Establishment of environment in Võru (EE), Sigulda (LV), St. Petersburg (RU) for development of tourism" (SVS ACTIVETOUR). The project is supported by Estonian–Latvia–Russia Cross Border Cooperation programme within European Neighbourhood and Partnership Instrument 2007–2013.

                      


The total eligible costs of the project are EUR 1 700 000, of which 90% were covered by the Estonian - Latvian - Russian cross-border cooperation program. Project duration was 33 months.


In the framework of the project the following infrastructure was developed:
Existing active tourism, sports and recreational objects at Voru, Kubija recreation centre were renovated and developed - sports and playgrounds, soccer fields, volleyball and handball courts, paths renovated and developed.
2 well equipped service houses on existing skiing tracks of St.Peterburg were built (at the Kurortniy district, poselok Serovo, ul.Lesnaja 9 and at the Primorskiy prospect, 56, korpus 2). 

          


New active and sports centre in Sigulda, Laurenči was built. It consists of 1.4 km of ski track and cooled 1,25 km ski track as a part of it, Stadium and service house. Also new equipment was bought – for skiing, rollerskiing, rollerskating and cycling. Siguldas District Council purchased retrack and Voru Municipality also purchased.

Refrigerating system under the track allows to maintain the snow cover and cross-country ski season to start faster, and ensure the continuous operation of the changing weather conditions. In summer the track is used for skating, Nordic walking and jogging - it provides wood mulch cover band along the paved portion along the line.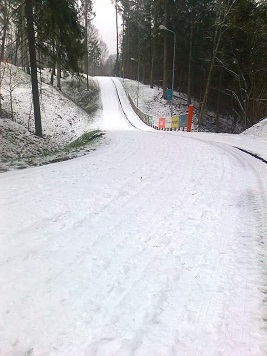 Sigulda sports and recreation center has won 3rd place in the nomination "Engeneering structure", in the competition "The Latvian Building 2013", which is organised by Latvian Builders Association; the designer – SIA "Arhitektes I.Kalveles birojs", the main builder - SIA "Merks".
The track of Sigulda sports and recreation centre Laurenči is certified by International Ski Federation (FIS). After the verification of the track FIS inspector Janne Pylvas came to conclusion that Laurenči ski track k is the best track for sprint in Latvia.


During implementation of the project different joint sports events were organized by partners to promote new and reconstructed objects for sport and active recreation. There were 4 sport events organised in Sigulda, 4 sport events in St.Petersburg and 6 sport events in Voru. All partners participated in these sport events. 

                        


 Joint implementation of the international project created good background for further cooperation between project partners in the future realising other projects of international cooperation. For successful achievement of goals the continuation and facilitation of exchange of experience as well as cooperation between project partners is essential by organization of events for exchange of experience, joint sports and active recreation events.


The information is prepared by Inese Jēgere, Sigulda District Council, Inese.jegere@sigulda.lv

Events calendar

November 2023

30
31
1
2
3
4
5
6
7
8
9
10
11
12
13
14
15
16
17
18
19
20
21
22
23
24
25
26
27
28
29
30
1
2
3