T&L: 3 long-term Cooperation Agreements signed and major project achievements presented during the Final Conference in Malnava, Latvia
On 10 October International conference on Transport and Logistics T&L2014 was held in Malnava. Representatives of Russian Federation Consulate Generale in Daugavpils, Joint Technical Secretariat of Estonia-Latvia-Russia Cross Border Cooperation Programme, LR Ministry of Education and Science, Latvian Agricultural University, Rezekne University, Transport and Communications Institute Latgale Region Development Agency, Latgale Planning Region, Latvian National Association of Haulers, Latvian Transport Development and Education Association, Latvian Road Traffic Safety Directorate and Project partners - Malnava College, Pskov Agrotechnical College (Russia), Academic Park attended the event. In total more than 60 participants took part in the conference from Latvia and Russia. With this conference and long-term cooperation agreements the project "Improvement of higher vocational education in the field of transport and logistics" (T&L), funded within Estonia-Latvia-Russia Cross Border Cooperation Programme within European Neighbourhood and Partnership Instrument 2007-2013, is approaching its final implementation phase.




During the Conference project partners publicly introduced major project achievements: newly equipped Motor Vehicle Electronics Testing lab, Distance learning tool and distance learning equipment, improved higher vocational education program in Motor Vehicles, new study module in Logistics, study library supplemented by new study books and materials. This is important for Malnava College and for Project partners – Pskov Agrotechnical College and Academic Park, as it helps to ensure quality and accessibility of vocational training in accordance with the requirements as well as development perspectives of labour market and T&L business. The final beneficiaries are those young people who are undergoing or plan to obtain higher vocational education in Vehicle Transport in partner educational institutions. Quality vocational training and practice during studies promote youth employability and competitiveness in the labour market.

Good training provides opportunity to find a good job or to start a business; proper income provides opportunity to maintain oneself and space for personal development; family income increases; young people stay in project bordering regions and don't leave for other countries, regions or big cities for better jobs; depopulation decreases, employment increases, partner regions develop and people have better life – so simple is the algorithm; we have to check its work in the coming years.

The Conference participants were welcomed by A. Bozoviča, Deputy Director of Malnava College. The opening speech was delivered by O. Rybalkin, Attaché of Russian Federation Consulate General in Daugavpils, who brought the message from O. Rybakov, Russian Federation Consul General in Daugavpils, to the audience. The Conference participants expressed gratitude to Russian Federation Consul General in Daugavpils and to Consul General of the Republic of Latvia in Pskov whose understanding and visa support were of great importance for Project partners to hold meetings, exchange visits and implement Project. The Conference was moderated by M. Bozovičs, Director of Latgale Region Development Agency, who also informed the participants on experience of Latgale Region and lessons learnt in planning and implementing cross border cooperation projects.




It should be emphasized that in 2007-2013 Estonia-Latvia-Russia Cross Border Cooperation Programme's funding for Latgale counted for 10,4 million EUR, of them 0,2 million EUR were managed by Malnava College and Project partners for improvement of higher vocational education program. J. Bozovičs, Director of Malnava College, participated in the Conference in distance mode and welcomed Conference participants.





V. Indričāns, Deputy Director of Malnava College for Studies and Research, T&L project manager, informed the Conference audience about the experience of Malnava College in planning and implementing EU funded projects and presented information about project results and achievements, including joint participation of Project partners in 10 exhibitions to address young people – future students – and to promote vocational training offer.

S. Iankin, Director of Pskov Agrotechnical College, informed the audience on expertise and development plans of the College. He highly appreciated the work done by the project partnership as well as opportunity to create and develop the partnership, to obtain new experience, to improve technical grounds. It should be mentioned that more than 20 students and teachers from Pskov Agrotechnical College attended the Conference.

P. Zaytseva, Project Manager of Joint Techncial Secretariat, Estonia-Latvia-Russia Cross Border Cooperation Programme, addressed the Conference participants and provided a brief insight into opportunities and achievements of the Programme. She also congratulated T&L project partners on project finalization. Following the tradition, she presented some souvenirs to the Project partnership to remember the Programme, efficient cooperation and to motivate the partners for further joint actions.




Professor I. Kabaškins (represented Transport and Communications Institute (TSI) and Academic Park) delivered an interesting lecture on innovations in transport and logistics, interconnections and development within university education and vocational training, teaching methodology.

O. Juhnevičs, Board Member and Executive Director of Latvian National Association of Haulers, invited to strengthen cooperation between education and business. He also made analysis of challenges, problems and development scenarios in the field.

Mg.oec. A. Skvorcovs, Head of Distance learning department, TSI, and coordinator of expert panel, informed the audience about the elaboration process of innovative distance learning tool, results, content, communication tools between tutors and students, evaluation methods, present and future functions. Teachers of Malnava and Pskov Colleges have undertaken special training in distance learning mode and obtained the required skills for maintenance and modification of distance learning tool. A. Skvorcovs gave digital key of distance learning tool to Project partners and publicly launched Distance Learning System.




Mg.oec. A. Vigovska, lecturer of TSI and logistics expert, informed about elaboration of the new study module "Logistics" and incorporation into improved vocational training program (Vehicle Transport). The new study module comprises 3 sub-modules and training material provided in Latvian and Russian. At the end of her presentation, A. Vigovska on behalf of experts congratulated Project partners and publicly presented to Project partners the new study module which is available not only in paper but also in electronic format as it is integrated into distance learning tool.

P. Žukovs, teacher of Malnava College and Head of Lab, invited all Conference participants to take part in one more ceremony – opening of a new Motor Vehicle Electronics testing lab. Symbolic ribbon was cut and the Lab was announced operational. V. Indričāns, A. Ruskulis and P. Žukovs told about equipment for testing car electronics and the useful skills the students now have the possibility to obtain in the Lab.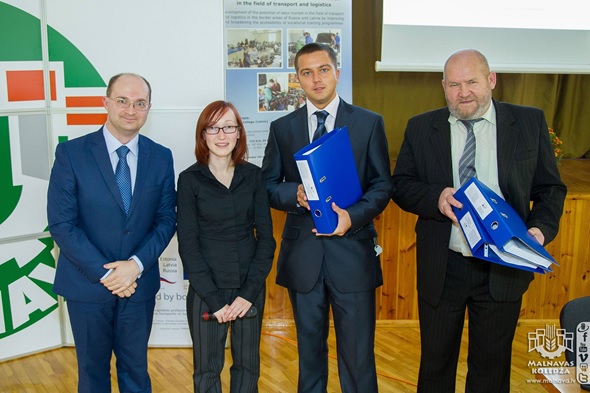 During the Conference 3 long-term cooperation agreements were signed between project partners. So the project partnership and networks established during project lifetime will continue developing after the project end. The fields of cooperation are transport and logistics, promotion of joint cross border cooperation initiatives in education, culture and social field, exchange programs for students and teachers, design of training courses, exchange of teaching methodology, placements in educational institutions and companies.


The long-term cooperation agreements come into force on the day they are signed and stay in force at least until 2021.

To finalize wonderful event Malnava College and Pskov Agrotechnical College presented Letters of Appreciation to those project staff members, teachers, students, experts, managers who provided their assistance in planning and implementing the Project, participated in trainings, exhibitions, helped with organizational practicalities, contributed to visibility of the Project.

Information prepared by Inese Kursīte,
kursite_inese@inbox.lv
Photos by D.Poikāns.

Additional information: Viktors Indričāns, Deputy Director of Malnava College,
T&L Project Manager, +37128379272, e-mail: vindricans@inbox.lv

More information on website and in social networks on Facebook, Twitter, Draugiem – www.malnava.lv https://www.facebook.com/malnava

Events calendar

December 2023

27
28
29
30
1
2
3
4
5
6
7
8
9
10
11
12
13
14
15
16
17
18
19
20
21
22
23
24
25
26
27
28
29
30
31